Full-Service Landscaping & Outdoor Living Company in Riverview, MI
McGregor's Landscape offers exceptional service all year round.
McGregor's Landscape is a full-service, all-season outdoor maintenance business in Riverview, MI. Our mission is to exceed customer expectations by working through any landscape or outdoor living need in a cost-effective manner. From planting and weeding to synthetic turf, McGregor's softscape services will elevate your yard and increase curb appeal. Choose from flowering bushes and towering trees to elegant lighting for illuminating your walkway—our exceptional experience and use of high-quality products allow us to complete each landscaping project with ease.
Tie your new landscaping together with our outdoor living services. Outdoor kitchens, brick paver patios, and retaining walls can complement your new softscape design and provide you with a more functional yard. At McGregor's, we aim to provide our clients with a multiple-phase landscape that captures their dream and remains within their budget. With free estimates and a team of professionals ready to make your landscape a breath of fresh air, McGregor's Landscape can truly do it all.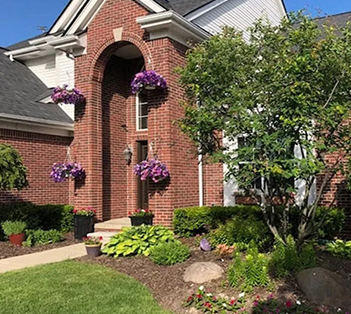 Downriver Community Involvement
At McGregor's Landscape, we are committed to supporting local events and businesses in any way we can. We offer our landscape services to local businesses, volunteer for community outreach programs, and donate to local organizations, schools, and sports teams. Our landscape professionals are proud to have offered assistance and provided meaningful outcomes to the following:
"*" indicates required fields
The Grass is Always Greener with McGregor's
Check Out What Our Downriver
Clients Have to Say
Greg was a dream to work with. His design for our yard went beyond what we had envisioned. Greg and his crew were very professional and accommodating. Any changes we made during the process were dealt with quickly and without complaint. I highly recommend McGregor's for your landscaping needs.
My front yard was a mess, overgrown landscaping was really unsightly. McGregor's saved the day. Their work is spot on. I've had lots of compliments and love the finished product. Thanks to Greg and the crew!
Excellent customer service and attention to detail. One of the only contractors who will follow up on the job and not disappear once the bill is paid.