Landscaping Services in Riverview, MI
The professionals who give your plants & yard a new lease on life
At McGregor's Landscape, we believe every yard should have its moment to shine. Whether you live in a gated community or a fixer-upper, the vibe your landscaping offers to neighbors and passersby represents who you are. McGregor's softscaping services deliver a delicate balance between your hardscape structures and the natural elements. From planting and sodding to lawn mowing and lighting installation, we truly provide it all.
Each of our landscaping services elevates the growing components of your landscape—flowers, trees, and greenery. From pruning and weeding your plants for optimal growth to lighting up your walkway at night, the McGregor's Landscape team understands how to construct a well-designed and natural landscape. Experience all we have to offer with our free estimates to create the garden and yard you've been dreaming of.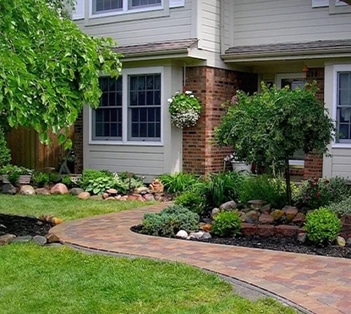 We Don't Just Offer Assistance, We Offer Solutions
Your yard is incomplete without stunning greenery for that pop of personality. At McGregor's Landscape, we not only perform softscape services, but we also provide the means to make your yard an eye-catching moment. Offering mulch, stone, shrubs, trees, and various other flowers, we let you take control and customize the foliage planted in your yard. Choose from various mulch and stone colors to accent newly installed trees and shrubs, completing the space from top to bottom.
"*" indicates required fields
Labor & Disposal Rates
3 Crew Member Landscaping | with truck and handheld equipment
...
$225.00/hr
2-3 Crew Member Pruning & Weeding | Includes clean-up
...
$175.00/hr
Disposal Brush | Per 7-yard load of plant material
...
$75.00
Disposal Soils | Per 5-yard load
...
$75.00
Disposal Concrete | Per 5-yard load
...
$150.00
*Prices are subject to change.
Our Clients Love Our Work
Greg was a dream to work with. His design for our yard went beyond what we had envisioned. Greg and his crew were very professional and accommodating. Any changes we made during the process were dealt with quickly and without complaint. I highly recommend McGregor's for your landscaping needs.
My front yard was a mess, overgrown landscaping was really unsightly. McGregor's saved the day. Their work is spot on. I've had lots of compliments and love the finished product. Thanks to Greg and the crew!
Excellent customer service and attention to detail. One of the only contractors who will follow up on the job and not disappear once the bill is paid.