Retaining Wall Installation in Riverview, MI
An effective solution to keep soil in place from McGregor's Landscape
Elevated landscaping requires a solid foundation and reinforcement to detain soil, mulch, and plants from sloping into your yard. Retaining walls provide a solution to this problem. By creating a barrier that separates your yard and walkways from the soil, you can prevent soil erosion and water pooling in your yard. At McGregor's Landscape, we offer retaining wall installation for every landscape need. From gravity retaining walls that are shorter in height to reinforced retaining walls that assist along hillsides and rolling slopes, the professionals at McGregor's can keep your soil in place and your landscape looking clean.
Retaining walls are ideal for not only soil erosion, but also water management. With a retaining wall installation from McGregor's Landscape, you can keep water away from your foundation, maintain a dry drain field, and avoid excessive water pooling in your garden. Additionally, sloping yards can benefit from retaining walls by evening out your accessible yardage. Create a stunning terrace for sitting areas or expand your patio without fear of difficult planting circumstances. A retaining wall from McGregor's Landscape could give you the freedom you need to use your yard to the fullest extent.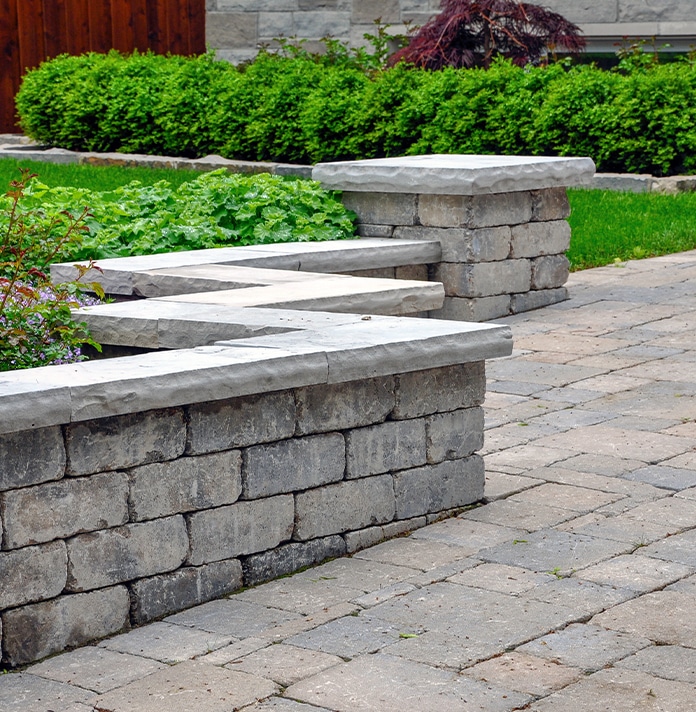 The Retaining Wall Possibilities are Endless
At McGregor's, we know that every yard has its own aesthetic. We employ numerous materials in the building of retaining walls to make sure that they match your outdoor decor. Choose from brick, stone, concrete, and more to deter soil erosion and keep your plants thriving. Offering free estimates, McGregor's will happily take a look at the designated retaining wall area and discuss your options in terms of products and design. From there, we'll draft up a blueprint for your retaining wall, order materials, and get started on your newest landscape project.
"*" indicates required fields
The Full-Service Landscape Company For You
Hear What Our Clients Have to Say
Greg was a dream to work with. His design for our yard went beyond what we had envisioned. Greg and his crew were very professional and accommodating. Any changes we made during the process were dealt with quickly and without complaint. I highly recommend McGregor's for your landscaping needs.
My front yard was a mess, overgrown landscaping was really unsightly. McGregor's saved the day. Their work is spot on. I've had lots of compliments and love the finished product. Thanks to Greg and the crew!
Excellent customer service and attention to detail. One of the only contractors who will follow up on the job and not disappear once the bill is paid.