Tiki Bar & Palm Tree Installation in Riverview, MI
Make vacation-style memories from the comfort of your backyard.
We've got great news! You no longer have to book a flight, spend copious amounts of money, or take time off work for a tropical vacation. Instead, bring the getaway vibes right to your backyard with a tiki bar and palm tree installation from McGregor's Landscape. Yes, that's correct, we can create a tropical getaway just a few steps away from your back door. Sit upon a bar stool, shade yourself from the sun under the palm thatch roofing, and embrace your new relaxing lifestyle.
At McGregor's Landscape, we understand how strenuous the Michigan winters can be and how short our summer months truly are. Make the most of your summer by installing a fun and entertaining tiki bar for friends, family, and neighbors to enjoy. Ideal for those with a backyard pool, you can create the ultimate oasis—you're just missing the coconuts and cocktails. All available tiki bars are made of wood to withstand the unpredictable Michigan weather and are the perfect outdoor entertainment center for your next luau.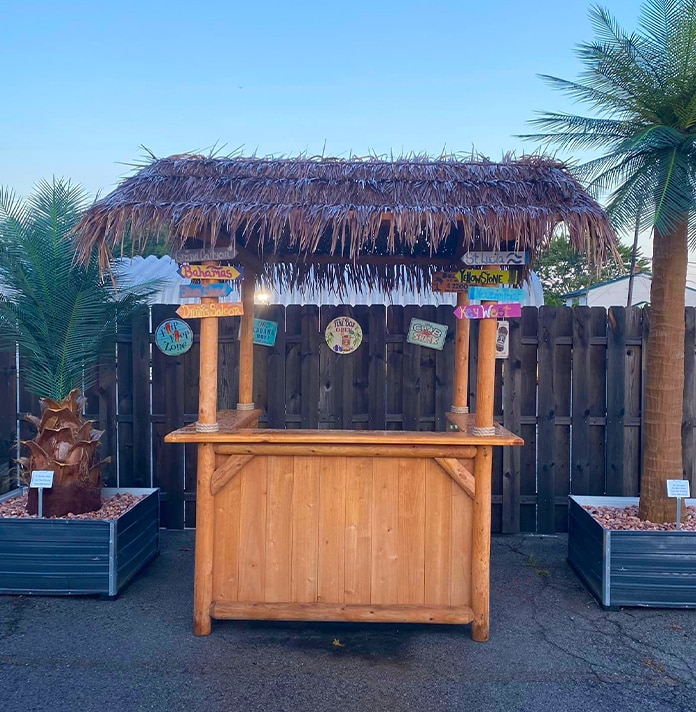 Host Your Next Tropical Party in Your Backyard
The backyard vacation getaway isn't complete without the staple of all tropical destinations—palm trees. Unfortunately, Michigan weather doesn't permit palm trees to grow, but that doesn't mean you can't enjoy the euphoria of seeing palms right out your window. McGregor's Landscape offers top-of-the-line artificial palm tree installation to bring a little slice of paradise to your yard. Available in a variety of different shapes and sizes, our professionals will install each tree with precision—fooling your neighbors and bringing a smile to your face each time you walk outside.
"*" indicates required fields
Transform Your Tropical Getaway
Paradise Found
Greg was a dream to work with. His design for our yard went beyond what we had envisioned. Greg and his crew were very professional and accommodating. Any changes we made during the process were dealt with quickly and without complaint. I highly recommend McGregor's for your landscaping needs.
My front yard was a mess, overgrown landscaping was really unsightly. McGregor's saved the day. Their work is spot on. I've had lots of compliments and love the finished product. Thanks to Greg and the crew!
Excellent customer service and attention to detail. One of the only contractors who will follow up on the job and not disappear once the bill is paid.