Drainage Systems in Riverview, MI
Protect your yard from standing water with proper drainage installation.
As a homeowner, large water blockages can wreak havoc on your property. McGregor's Landscape knows all too well about water pooling in areas unwelcome, which is why we provide drainage system installations—keeping you and your yard dry.
With our pop-up and yard drain options, we can ensure erosion is controlled, your soil is aerated properly, and plants are receiving enough nutrients. When standing water exists on your property for too long, it causes damaging effects to all not only your landscaping but also your home's foundation. This unsightly watery grave can quickly drown plants, stop grass from growing, and be a dangerously slippery surface. Thankfully, with McGregor's Landscape water drainage solutions, you can experience a dry yard and blooming flowers for all seasons.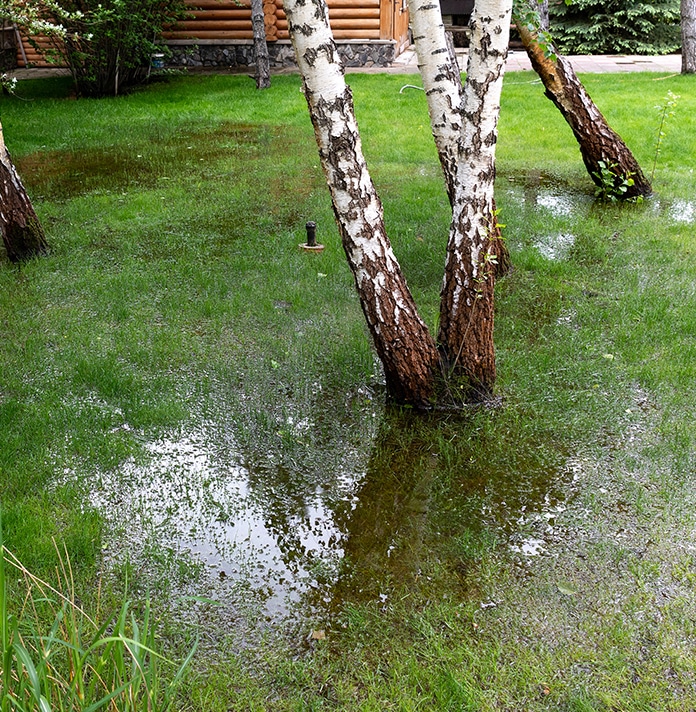 Save Your Yard from Flooding with McGregor's Drainage Solutions
The professionals at McGregor's Landscape offer pop-up drains and yard drains to solve your wet and soggy problems. Our pop-up drains attach to the end of your gutter system, emitting water to a safer and more stable location. Yard drains, on the other hand, are perforated pipes installed in low areas of your yard to collect water. We'll attach the pop-up drain to the end to ensure the water captured is released at the edge of your yard rather than in the middle of it. Our landscape experts will discuss the best solution for your yard, keeping your grass and garden from drowning in runoff.
"*" indicates required fields
We're the Answer to Your Puddle Problems
Our Customers Know Us Best
Greg was a dream to work with. His design for our yard went beyond what we had envisioned. Greg and his crew were very professional and accommodating. Any changes we made during the process were dealt with quickly and without complaint. I highly recommend McGregor's for your landscaping needs.
My front yard was a mess, overgrown landscaping was really unsightly. McGregor's saved the day. Their work is spot on. I've had lots of compliments and love the finished product. Thanks to Greg and the crew!
Excellent customer service and attention to detail. One of the only contractors who will follow up on the job and not disappear once the bill is paid.