Exquisite Outdoor Kitchen Installation in Riverview, MI
The party congregates in the kitchen, but now it's outside!
Outdoor kitchens no longer include a standalone grill and shuffling hot food from the patio to the indoor prep station. Now, these popular designs involve bars, sinks, stainless steel refrigerators, luxurious countertops, and more. Your home can quickly transform into a lavish outdoor entertainment space even the proclaimed family chef can enjoy. At McGregor's Landscape, we have the expertise and quality products to help make this dream a reality. Choose from brick, stone, slate, and other hardscape materials for your outdoor kitchen to withstand even the harshest of Michigan weather.
A well-designed outdoor kitchen works together with its indoor counterparts and compliments your home's architecture and landscaping. The professionals at McGregor's will provide insight into the best area of your patio suited for a functional kitchen. Then, we walk you through various material options to start construction. Once you've approved a blueprint from our design team, we'll get started on building your one-of-a-kind outdoor kitchen, fully equipped with space for a mini-fridge, prep station, sink, and even a pizza oven. Gather your friends, family, and neighbors to enjoy this unique outdoor entertainment space all summer long.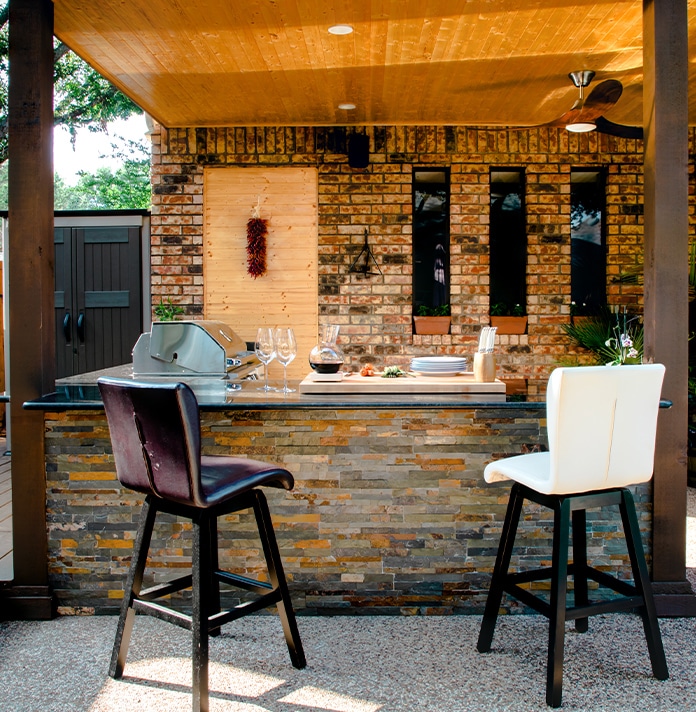 McGregor's Works With the Best in the Business
At McGregor's Landscape, we partner with some of the most experienced outdoor kitchen installers in the Riverview, MI area. Our team of landscape professionals will construct the base of your dream kitchen and provide references for electrical and plumbing companies to complete the project. These experts will install your appliances and finishes, while ensuring your kitchen is safe and up to code. We want your outdoor kitchen experience to be utter perfection. Whether the family wants to have pizza night on the patio or you plan to grill up some steaks for a Sunday game, installing an outdoor kitchen with McGregor's Landscape will be a life-altering moment for you.
"*" indicates required fields
Meals & Memories Are Made in a McGregor's Outdoor Kitchen
Food is Our Customer's Passion
Greg was a dream to work with. His design for our yard went beyond what we had envisioned. Greg and his crew were very professional and accommodating. Any changes we made during the process were dealt with quickly and without complaint. I highly recommend McGregor's for your landscaping needs.
My front yard was a mess, overgrown landscaping was really unsightly. McGregor's saved the day. Their work is spot on. I've had lots of compliments and love the finished product. Thanks to Greg and the crew!
Excellent customer service and attention to detail. One of the only contractors who will follow up on the job and not disappear once the bill is paid.