Expert Brick Paver Patio Installation in Riverview, MI
Define your yard & walkway with a gorgeous long-term patio solution.
The patio is perhaps one of the most frequented areas in the summertime. Hosting parties, enjoying dinner with the family, or soaking up the mid-afternoon sun—the patio is the place to be. But for those who don't have the luxury of experiencing a designated outdoor space, the professionals at McGregor's Landscape have a solution. Providing some of the best brick paver services in the Riverview, MI area, our team has experience creating patios, walls, steps, and walkways to bring your landscaping to life.
Whether you're looking to create a more defined driveway by incorporating a brick paver border or wish for a more seamless walk to your front door, this long-term investment option will increase functionality and curb appeal. Brick pavers are one of the easiest hardscape materials to repair and replace. Additionally, brick pavers can withstand nearly any weather condition without wear and tear—you no longer have to worry about the color or finish fading over time. Elevate your walkway, add layers to your patio with steps, or renovate the backyard with a completely new patio design—whatever your hardscape desires, the professionals at McGregor's Landscape have the brick paver solution for you.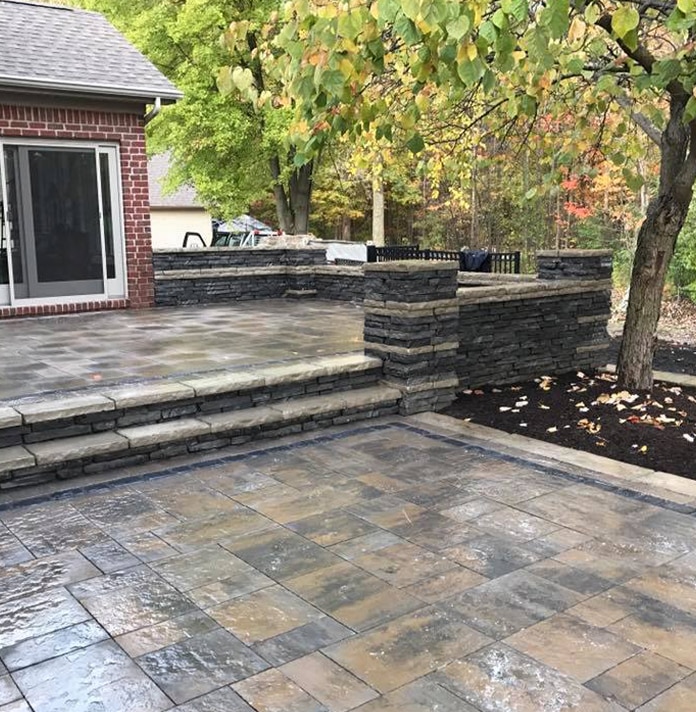 Brick Paver Products Right at Your Fingertips
Choosing a brick paver for your next patio project can be tricky. You have to consider color, design, and pattern, all while keeping the exterior aesthetic in mind. At McGregor's Landscape, the decision-making process has never been simpler. We work closely with our preferred vendors who provide a wide array of brick paver selections to choose from. Simply select the product that best suits your needs, and we'll install it quickly and efficiently. Opt for a unique layout design or go for a more classic, seamless pattern—whichever you prefer, the professionals at McGregor's can get the job done.
"*" indicates required fields
Start Your Brick Paver Patio Construction Today
Our Previous Brick Paver Projects
Greg was a dream to work with. His design for our yard went beyond what we had envisioned. Greg and his crew were very professional and accommodating. Any changes we made during the process were dealt with quickly and without complaint. I highly recommend McGregor's for your landscaping needs.
My front yard was a mess, overgrown landscaping was really unsightly. McGregor's saved the day. Their work is spot on. I've had lots of compliments and love the finished product. Thanks to Greg and the crew!
Excellent customer service and attention to detail. One of the only contractors who will follow up on the job and not disappear once the bill is paid.