Outdoor Living Installations in Riverview, MI
Become one with nature & enjoy sunsets and celebrations in your new outdoor space.
Create a fully functional living space right in your backyard by combining McGregor's landscaping services with our outdoor living installations. A well-designed landscape incorporates a balance between the two elements, providing functionality and eye-catching aesthetics. Landscaping that goes overboard with soft scapes can often appear like a jungle, while too much hardscape can make your home appear cold and uninviting. Thankfully at McGregor's Landscape, we know how to add symmetry to your property and create a space you'll love for years to come.
Though the name implies a rough and unappealing structure, hardscapes can be natural in appearance, improve landscaping woes, and add a touch of personality to any home. With our brick paver patios, you can enjoy a maintenance-free environment to entertain guests and unwind after a long day. Does soil erosion have your yard looking like a muddy mess after a rainstorm? Don't worry, we've got you covered there too. Offering retaining wall installation, the professionals at McGregor's can quickly move your soil back where it belongs while keeping plants and shrubs rightfully intact. Let your home speak for itself with a rightful balance between landscaping and outdoor living.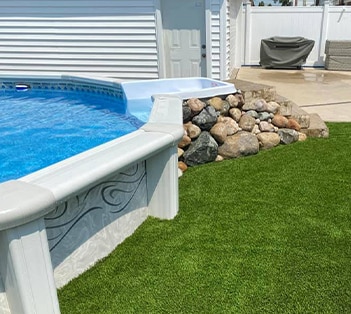 Create Your Own Backyard Oasis
Vacations come and go, but one thing that remains is the desire to sip a cocktail from a coconut and enjoy a tropical view. Now with McGregor's Landscape, you can have your very own piece of paradise right in your backyard. Go full tropics with our tiki bar and palm tree installation, or cater to the chef in the family by incorporating an outdoor kitchen to your patio. Whether you aspire to soak up as much of the Michigan summer as possible or want to impress your neighbors and friends with a unique hardscape design, the professionals at McGregor's Landscape can make it happen.
"*" indicates required fields
Our Customers Are Thrilled
Greg was a dream to work with. His design for our yard went beyond what we had envisioned. Greg and his crew were very professional and accommodating. Any changes we made during the process were dealt with quickly and without complaint. I highly recommend McGregor's for your landscaping needs.
My front yard was a mess, overgrown landscaping was really unsightly. McGregor's saved the day. Their work is spot on. I've had lots of compliments and love the finished product. Thanks to Greg and the crew!
Excellent customer service and attention to detail. One of the only contractors who will follow up on the job and not disappear once the bill is paid.